An introduction into the properties of faux fur and where to acquire it.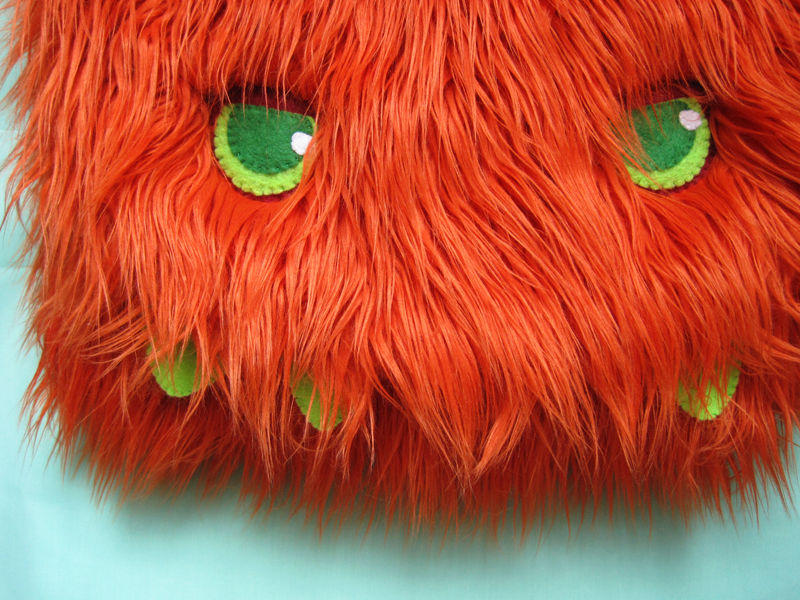 Long ago when I first became a maker of plushies, all I used was craft felt because it was well suited to the tiny creatures I made.  Also, I was dead broke and that was all I could really afford to work with.  As I got further into the world of plush I dreamed of the days when I would have a vast array of fabric at my disposal.  Having inherited my mother's weakness for outrageous colors and fabrics, I yearned for all sorts of exotic materials.  In particular I lusted after a stash of wild and colorful faux fur.  I was terribly jealous of my fellow plush makers who used the stuff all the time.  Finally, the day came when I stopped being broke all the time and I made up an excuse to start my own glorious collection.  These days I am finally starting to have a respectable stash.
Recently I have received a few inquiries as to where one starts acquiring said wonderful fur.  I remember being stuck at the beginning too.  Where do you actually buy the stuff?  I was horribly disappointed by the paltry selection I first encountered at my local fabric store.  It usually only comes in black and white and is of a dreadfully cheap quality.  I wanted to find that fantastic stuff I saw other people using.  I turned to the extensive knowledge base of the wonderful Plush Team (of which I am a member)  and I discovered that to get the good stuff, you are probably going to have to do your shopping online.  In the beginning I was very hesitant about buying fabric that I couldn't touch, but this was soon outweighed by the ease and selection of online shopping.  Since I know how frustrating the hunt for right material can be, I have attempted to put together a small guide of sorts here.  It is based on my own shopping experience so it isn't terribly extensive, but it should be a good starting point.
Part 1
Where to shop
Fabric.com
This website doesn't have a wide variety of furs, but the stuff they do have comes in a wide range of colors and is reasonably priced.  I also use the site a lot for ordering other types of fabric.  Shipping is super quick.
DistinctiveFabric.com
This place has a great variety of furs available.  The prices are pretty reasonable.  Shipping is usually pretty quick, but I've heard from others that it can be slow sometimes.
Mendel's
I haven't actually ordered from this site yet, but it is well recommended.  They have a fantastic selection.  If you can't find what you need at the first two sites, you can probably find it here.  Unfortunately it is a bit more expensive that the previous two.
A few tips on shopping: Just a warning, nice faux fur, the stuff that is thick and soft, is a bit pricey.  The $20/yard range is pretty standard.  However the fabric is usually 60″ wide so a little goes a long way.  Also, many of the above sites will let you buy in half yard increments.  You can also get a swatch for very cheap (sometimes free) if you want to know what a particular fabric is like.  And if all else fails, the first two websites have very generous return policies.  Personally I haven't been disappointed yet, so I haven't had to return anything.
If shopping online really isn't your thing, try finding an independent fabric store in your area.  The good ones will generally have a better selection than the big chain stores.  I don't drive so I haven't gotten around to investigating the ones on my area yet.
Part II
What to buy
For this part I am going to turn things over to an expert in fuzzology.  This is Professor Fuzzwald, a researcher at the Bunny Hopkins Advanced Fuzzics Lab.  He has agreed to talk about some of the properties of faux fur to better inform your shopping decisions.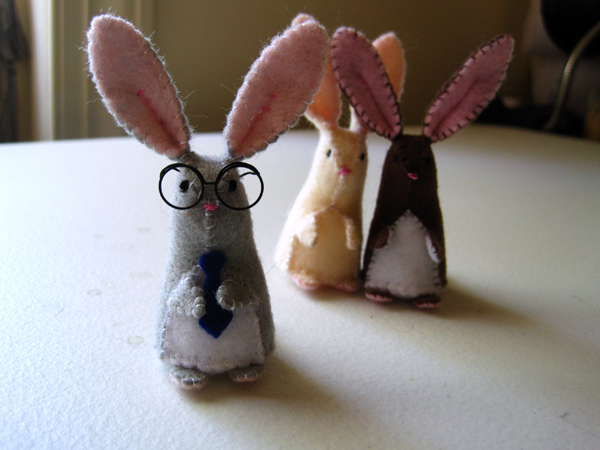 Good day, makers-in-learning.  Today we are going to talk about properties of materials.  The proper selection of materials is an important part of any project.  For this discussion we are going to be looking at the contents of Jefita's faux fur stash.  I will be evaluating the various furs based on two main factors, the Softness Scale and the Fuzz Index.  The Softness Scale is a gauge of how pleasant to touch something is, or how coarse the fibers are.  The scale ranges from 1 (scruffy dog) to 10 (chinchilla).  The Fuzz Index is from a combination of fur thickness and fiber length.  It is essentially how dense and furry the material is.  Now let us begin!
First we will cover the cheap stuff.  These samples came from the local Jo-Ann Fabrics.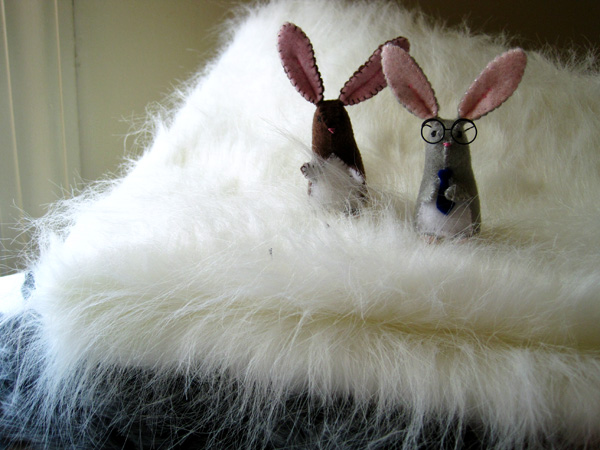 This one here has a Softness of 3, and a low Fuzz Index.  It is rather long and shaggy, but not very thick.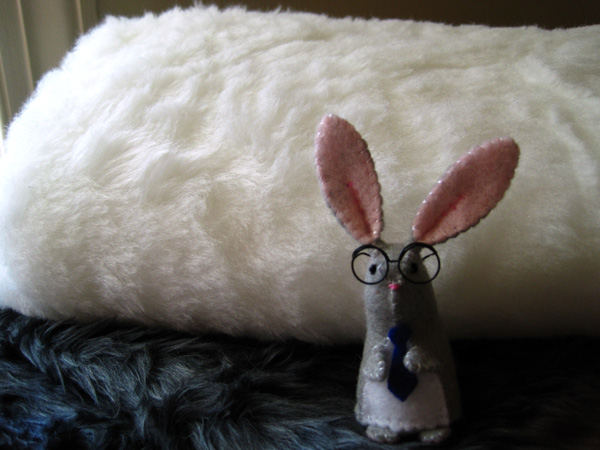 At first glance this one seems cotton soft and fluffy, but it really only has a Softness of 4 and low Fuzz Index.  It is somewhat stiff and much thinner than it looks.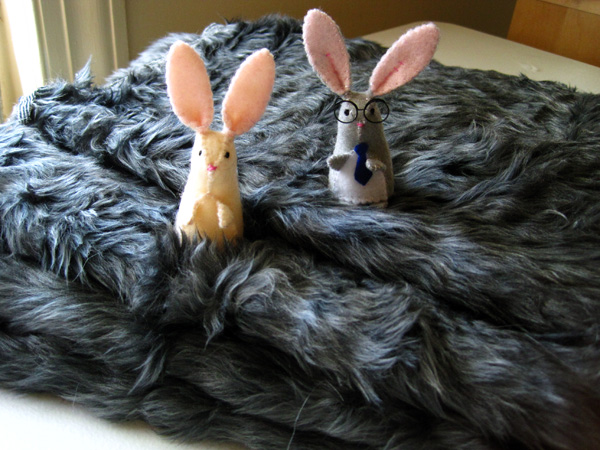 This sample is a bit surprising.  Despite its origin it has a Softness of 6 and a medium Index.  The fur isn't all that long, but is decently thick  and pleasantly scruffy looking.
Now we have seen what is at the bottom of the scale, we can move on to the nicer stuff.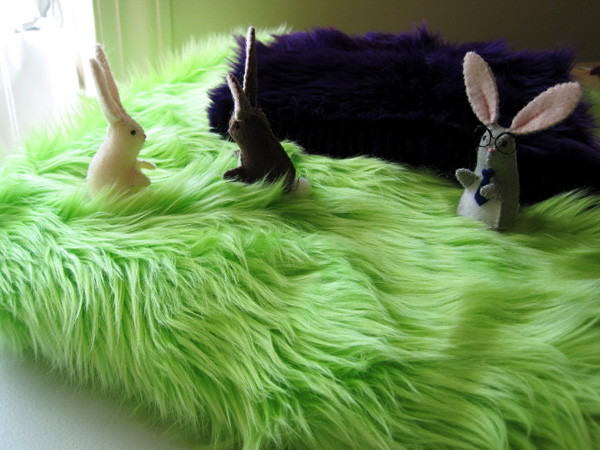 Faux Fur Luxury Shag Fabric from Fabric.com
This is a lovely variety of fur and comes in a wide range of colors.  It has a Softness of 9 and a high Fuzz Index.  Fiber length is only about 1-1.5″, but is nice and thick.  Look at that lovely sheen too.  Example use: the Monster Bag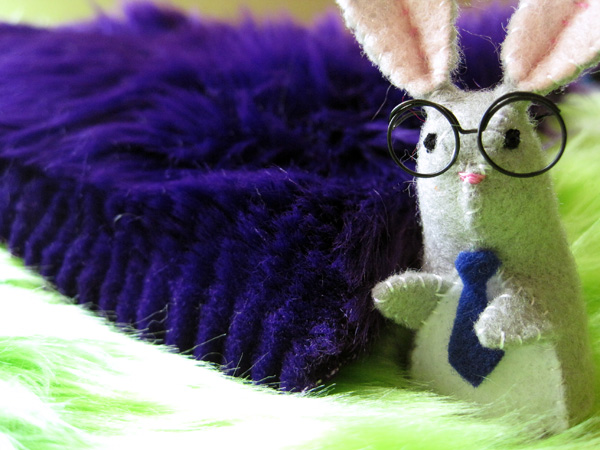 Pay attention to cross section here.  See how thick that is?  That is indicative of a high Fuzz Index and good quality of the material.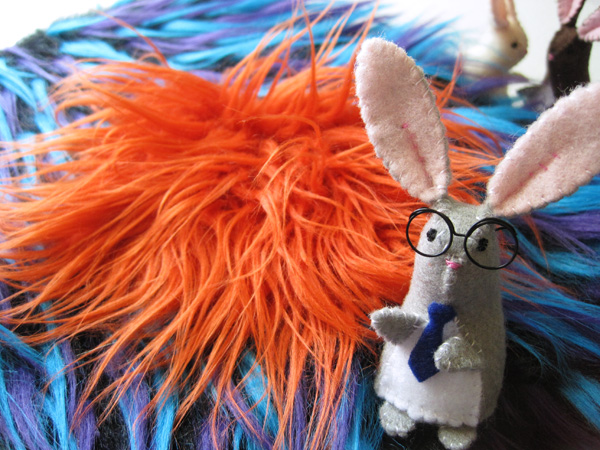 Extra Long Hair Fur Fabric from DistinctiveFabric.com
Here we have a much longer fur.  As you can see it has a stringier texture.  Despite this appearance it has a Softness of 7 and a high Fuzz Index. Example use:  another Monster Bag.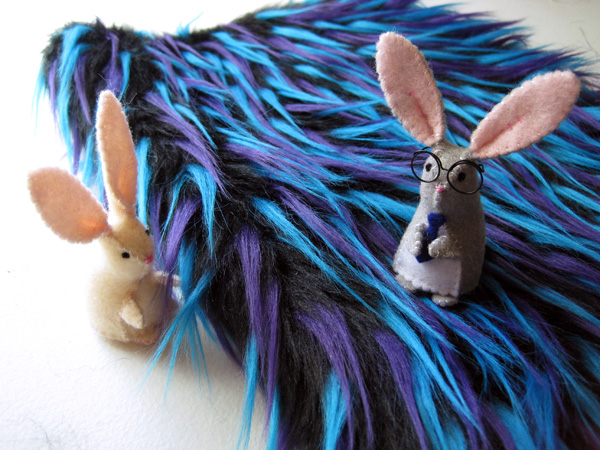 3 Tone Fur Fabric from DistinctiveFabric.com
Moving into the more exotic furs, we have this long multi-colored sample.  The base color is rather short so the accent colors seem to "spike" out.  It has a Softness of 8 and an high Fuzz Index.  Example use:  the Kitty Bag.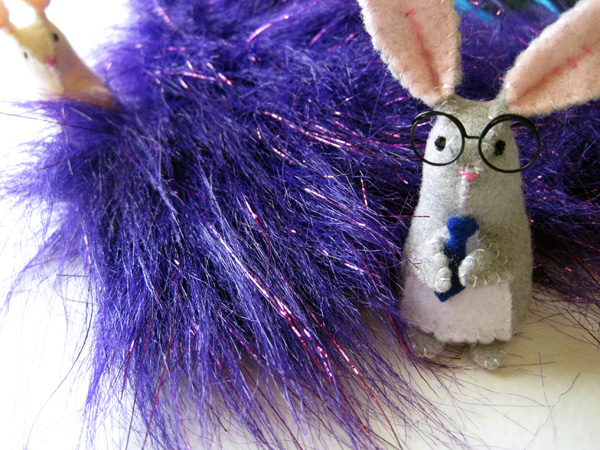 Sparkle Fur Fabric from DistinctiveFabric.com
This is an interesting mix of properties.  This long glittery fur has a medium high Fuzz Index, but a Softness of only 3 or 4.  Fortunately the Sparkle factor balances out the low Softness.  Example use:  Murf the Monster.
Lastly I would like to cover one more category, the not-quite furs.  These materials wouldn't really be considered furs, but they have their place in the world of fuzzology.  They don't have a Fuzz Index but instead just a Softness rating.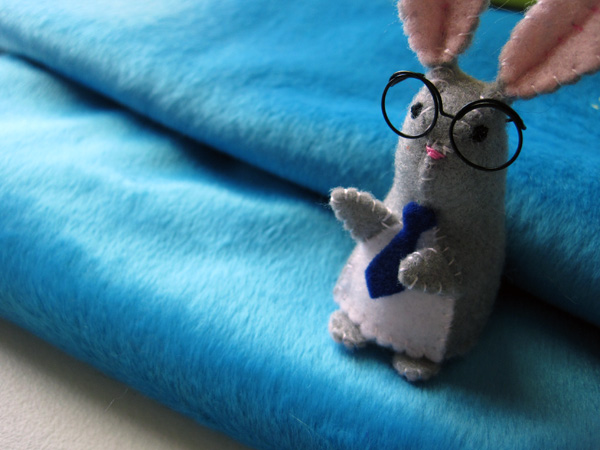 Soft Fur Fabric from Fabric.com
This material carries the name "fur" but as you can see is very short and not really furry at all.  However it does have a nice sheen and a Softness of 8.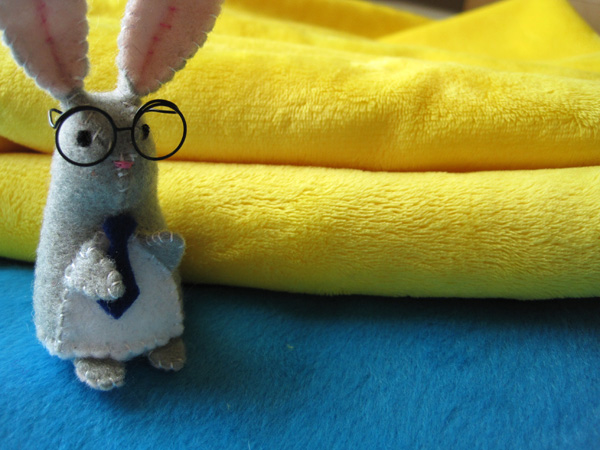 Minky Solid Fabric available online and locally
While not a fur in any sense of the word, it has a somewhat of a furry appearance.  As the name would suggest it is "minky" soft with a very high softness rating of 10.  Example use:  Zoe the Soft Rocker.
That is all I have to cover today.  Hopefully this lecture has helped enlighten your fabric choices.
Thank you Professor Fuzzwald!
That's about all I have for this segment of Fuzzology 101.  Sometime in the future I hope to have another session covering the makeup and handling of faux fur.  I'm not an expert on working with faux fur yet, but I'm going to share what knowledge I have.  If any of you have questions about this topic please let me know.  I would also love to hear if you have anything to add!