Haha!  You thought you were going to get the next installment of my enthralling road trip, but instead I pull the old switcheroo.  Man I love that trick.  Instead,  I'm going to write about something very important to me: the creation and consumption of tasty things to eat.
I really enjoy cooking and I really enjoy eating.  Every now and then I have these yearnings to pretend I am some sort of cultured, sophisticated adult.  The kind of adult who throws lavish dinner parties, and wears swanky dresses.  So I clean up my cramped, awkward little apartment, buy a bunch of nice booze, and make a lot of fancy food.  Then I tell my friends they better come over and pretend we are classy people.  The illusion doesn't work unless you have more than two people.  Besides, I would probably never clean my apartment if people didn't occasionally visit.
My birthday was coming up so I decided I was going to have one of these "classy" parties.  It's only fitting that I celebrate my aging by pretending I'm a grown up, right?  Anyways, I tidied up my abode (I even cleaned my fridge *shudder*), invited as many people as I thought would fit in my living room (turns out ten people is kind of pushing it), and made up a bunch of fancy little hors d'oeuvres (even spell check couldn't help me with that one).  I have decided this is an excellent way of spending a birthday.  I didn't have to leave my house, there weren't any restaurant staff or mariachis to sing to me, and I found out that when you tell people not to bring things to your party, they will in fact show up with lots of nice booze.  Also, since Mr. Boy doesn't actually know where to find anything in our apartment, nobody could find any candles.  I savor the small victories in life.
Back to the food!  Like I said, I made a bunch of hors d'oeuvres and appetizer stuff.  Amongst all the fancy tidbits, I also made one of my old favorites, the humble deviled egg.  Now I have rather strong opinions about deviled eggs.  They are not supposed to be bland.  They are not supposed to be dry and pasty.  There is no excuse for making flavorless, unseasoned deviled eggs.  I have actually seen some that were just egg yolk and mayonnaise.  Heresy!  So to save the world from tragically uninteresting deviled eggs, I am going to share my own, secret, family recipe.  In my own unabashedly biased opinion, this is also the best recipe for deviled eggs.  To all the mothers and grandmothers I have just offended, it is unfortunate, but I refuse to apologize.  Yours are probably perfectly acceptable, but mine are supreme.
The Best Deviled Eggs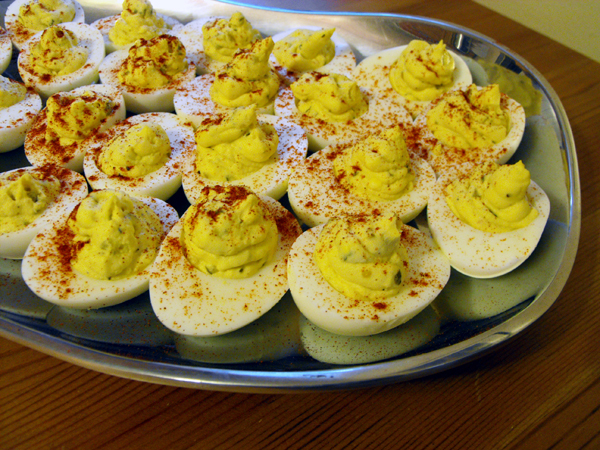 This is not a terribly exact recipe, but I have attempted to give you some fairly accurate estimates on measurements.  They can be made a day ahead, but I think they are best the day of.
Ingredients:
1 dozen hard-boiled eggs*
a couple of good dollops of mayo (or a scant 1/2 cup)
1 tsp or to taste Dijon (or other tasty mustard)
a couple of finely chopped small sweet pickles (or a couple spoonfuls sweet pickle relish)
tsp or so of rice vinegar (or another mild vinegar)
dash of soy sauce
pinch of sugar
salt and pepper to taste
paprika (on top for color)
Cut the eggs in half lengthwise and take out all the yokes.   Smash up the yokes with a fork or pastry blender, then add  enough mayo to give it a good thick and creamy consistency, not too dry, and mix until mostly smooth.  Mix in the rest of the ingredients then sample liberally and tweak the seasonings if needed.  When it is just right, put it all in a ziploc (a sandwich bag is usually big enough), clip the corner, and use it like a pastry bag.  Squeeze the filling into the empty halves, mounding it up a bit.  You might have some extra filling at the end.  You can either eat it yourself, or add more to the eggs.  Sprinkle with paprika for color if you are feeling fancy.  Refrigerate until ready to consume!
Bonus Ingredients: (for extra zing)
1 Tbsp or so minced onion, shallot, chives, or green onion
a generous pinch of garlic and/or onion powder
hot paprika instead of regular sprinkled on top
finely chopped thyme
chopped chives for garnish
*I assume you know how to boil eggs already, but if you don't, here is the fool proof method:  Place eggs in one layer in a pot and cover with water.  Bring them to a boil then turn off the heat and cover.  Let sit for ten minutes then drain and run under cold water.  Peel and enjoy!  Oh, and just so you know, those eggs that have been sitting in your fridge for a couple of weeks?  They will peel so much easier than if you used fresh eggs.
Go forth now, and enjoy delicious egg treats!