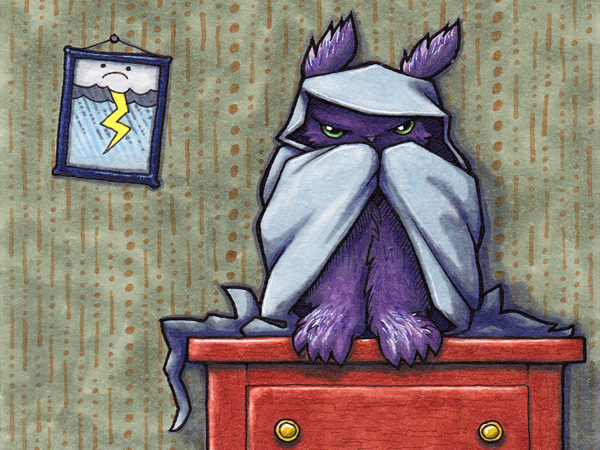 It seems like everybody is getting sick lately. Despite my efforts to avoid it, Mr. Boy managed to give me his head cold, icky crud. It's that lame kind of in-between sick where you feel like crap, but not bad enough to stop you from feeling guilty about taking a day off. I feel like I should be working, but my brain feels all blurry and my face is full of mucus. I finally decided I probably shouldn't work, because I don't really want to make germ filled plushies. I just imagined my innocent little creatures going out into the world like so many tiny small pox blankets.
My guilt being assuaged, I decided to fill the gaps between napping sessions by continuing to fill my moleskine sketchbook. Since my attention span is a bit short right now, I'm filling a page with tiny little 2.25″ square drawings. I don't know if I've mentioned it yet, but I am still quite in love with my new markers. It doesn't take much encouragement for me to break them out and doodle. Even if I don't feel like doing anything else.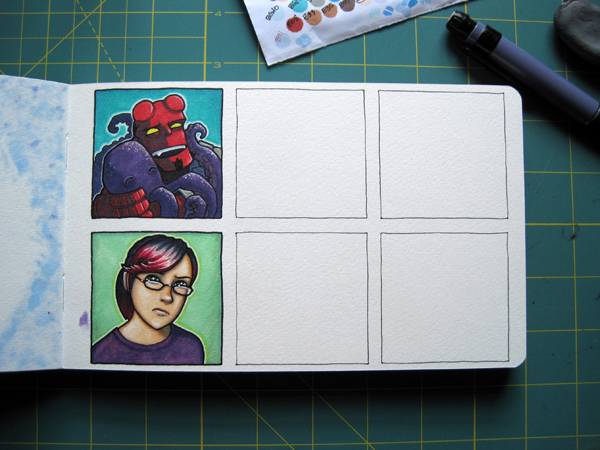 Anyways, Mr. Boy said something about a "chibi Hellboy" and somehow I ended up with Hellboy chumming it up with an octopus. I'll pretend it's because I'm sick. Then I tried a self-portrait. I didn't mean for it to look like I was disgusted at the mushy cephalopod friendship above. It turns out it's somewhat difficult to draw yourself disapproving of your own hair cut. (I got pissed off at my bangs the other day and because I'm a cheapskate, I trimmed them myself. I have sort of "seventies, Farrah Fawcett" bangs as my friends kindly informed me. I suppose it could have turned out worse. I could have ended up with a Flock of Seagulls do.)
Now I have four more little squares to fill up. Instead of coming up with the rest of them on my own, I'm offering up some little mini commissions.  Judging by the duration of Mr. Boy's illness, I'm going to be at this for a couple of more days at least.  So for the low, low price of only $5 you can tell me what to draw in my little book for the rest of the week. If you are interested you know where to find me.
I think it's about time I go back to sleep on the cat. And I swear the next post won't have anything to do with markers. For reals.