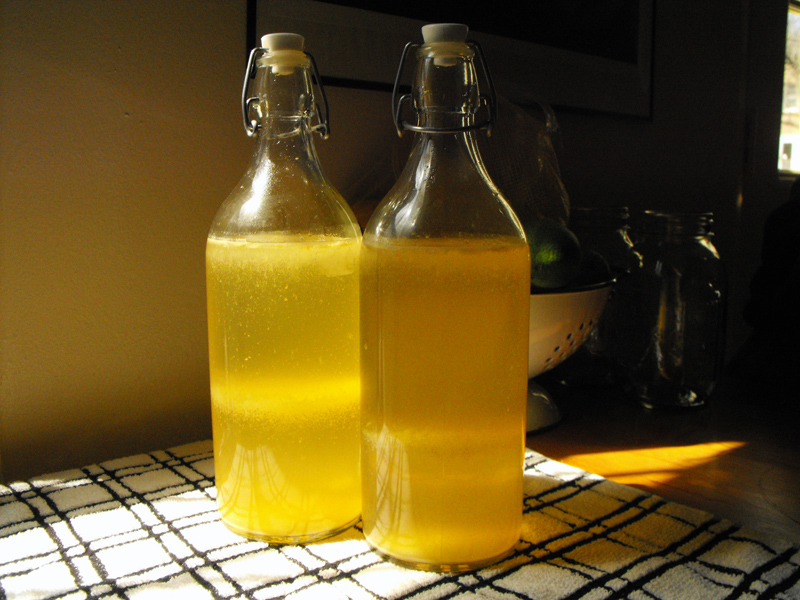 Last week I agreed to update my poor neglected blog if my little sister updated her neglected photography. Much to my dismay, she had updated within five minutes of said agreement. So here I am, completing my half of the bargain. Recently I have designated Sundays my "experiment" day of the week. A couple of weeks ago, confronted with the remnants of an ill advised lemon purchase and a bunch of leftover ginger for stir-fry, I decided to attempt making ginger beer. It combines three of my favorite things: efficient use of resources (a.k.a. getting rid of leftovers), new projects, and SCIENCE!
Ginger beer is really just ginger ale with some attitude, but it does involve one of mankind's oldest and most cherished forms of mad science–brewing. To get the soda carbonated, you have to do some fermenting. Just a little bit.  Not enough to make it legitimately alcoholic.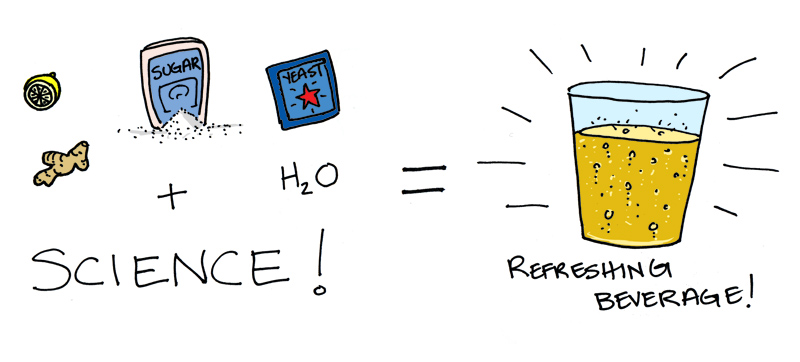 By the way kids, I don't know if you know this, but yeast is really cool. It's a domesticated microbe. You should check it out sometime.
*Ahem* Moving on. So this project isn't exactly "instant" gratification, but it is super easy and very gratifying…if you like cool, refreshing, zingy beverages.
Ginger Beer
Now I'm not going to give you a complete how-to.  The internet is rife with ginger beer how-tos.  I will however tell you what you need, and my notes on the process.
The Recipe
There are lots of recipes for ginger beer/ale out there and most of them are pretty similar.  I chose to use one from Alton Brown:  Ginger Ale
It is labeled "ginger ale" but I consider it ginger beer.  It has a healthy peppery bite compared to the mild mannered stuff you buy in a can.
Equipment
A clean 2 liter soda bottle, or two 1 liter glass bail top bottles (mine came from IKEA, you can also find them at home brew supply stores)
A fine grater (Microplane, FTW!)
Strainer
A pot
Ingredients
Fresh ginger (3-4 in)
A lemon
Sugar (I went all fancy and used turbinado sugar)
Yeast, bread or champagne (champagne yeast can also be found at a home brew supply store, and is pretty cheap)
Water
Notes
I have made two rounds of this already, so I've had a chance to screw up and work a few things out:
1.5 oz = 3 Tbsp of ground ginger–I guesstimated the first time and didn't put nearly enough in.  It was weak sauce.
6 oz ~ 3/4 cup sugar–This brew is not super sweet like regular soda.  In fact the yeast consumes a portion of that sugar to provide the carbonation.
Champagne yeast provides much better carbonation and taste.  I tried bread yeast the first time and was disappointed with the results.
Don't add lemon zest.  I tried this out due to some comments, but it only seemed to lend a bitter "lemon cleaner" vibe.
The gunky stuff at the bottom won't hurt you.  That being said, I tend to avoid drinking it, but I'm too lazy to filter it out.
And finally, let it sit in the fridge for at least a day after fermenting before consuming.  It will taste better.
So faithful readers I urge you to go forth and experiment!  If you are feeling particularly adventurous, you can try making it with wild yeast.
Or if you need something a bit more adult, might I suggest the Dark 'n Stormy?
Now, must scurry off to make a third batch!