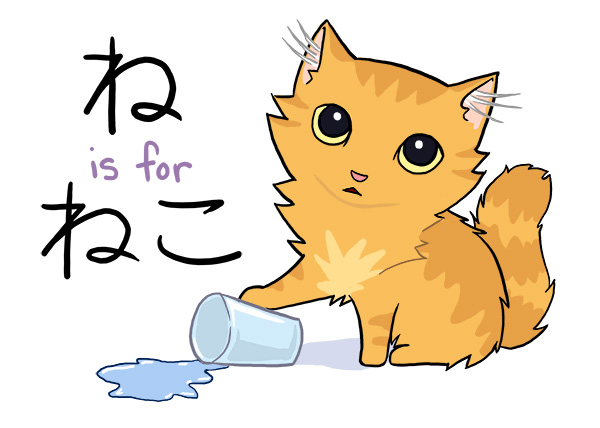 ne is for neko
I am going to apologize in advance. As I have mentioned, the Mister and I will be moving off to Japan for a year. I'm not going to lie, I think this is super freaking exciting. I've always wanted to live abroad for a while. There is probably going to be an abundance of OMG I'M MOVING TO JAPAN!!!! posts transitioning somewhere into OMG I'M IN JAPAN!!! (with a brief interlude when I'm too crazy and stressed because I'm actually moving.) So this is probably the first, but not last, Japanese themed posts. You've been warned.
In the four months or so left until the move, I've decided to start learning a bit of Japanese.
Having made this decision, I immediately floundered at where to start this quest. While I have no illusions about becoming anything close to fluent, I thought it would be nice to be armed with at least some basic speaking and reading skills. Herein lies the difficulty. The Japanese writing system is complex to say the least. It primarily uses a combination of two syllabaries, hiragana and katakana, both containing 48 characters, and thousands of adapted Chinese characters called kanji. Katakana would probably be the most useful as a gaijin because it is primarily used for foreign words such as chi-zuba-ga- and piza, but most sources suggest starting with hiragana. I'm not even going to think about touching kanji. Bleh….
Fortunately my dilemma was conveniently solved by a birthday gift from one of my friends. She got me a nice beginner Japanese book called Japanese From Zero. It teaches you hiragana and introduces the very basics of Japanese grammar. I just finished up the book so I am now able to write in hiragana and construct some rudimentary sentences. This is pretty exciting. My first time learning a non-latin script wasn't nearly as difficult as I imagined. I loved penmanship in school so learning to write entirely new characters was pretty fun. I also pretended I was learning to decipher and use a secret code. It's dorky, but I always feel that way when learning new languages.
So my thoughts on the book…overall it was pretty good. I felt like this book rather gently and non-threateningly introduces you to Japanese, which is nice because Japanese sentence structure diverges significantly from English. I really liked the progressive approach that phased out the rōmaji (romanized Japanese) for the hiragana as you learned them. The lessons are reasonably sized and include plenty of examples and exercises. It was pretty quick too. I spread it out over three to four weeks, but if you did a lesson a day it would only take two weeks. You come out of it knowing how to read and write hiragana, some basic vocabulary, a bit of grammar, and a few cultural tidbits.
Before my friend got me the book, I'd dug around on the internet to see what sort of options were out there and if any of them were free. I would have loved to have found something like Duolingo (which I think is awesome for casual language learning), but there aren't really any great free options. You can find plenty of good free resources, but in general there isn't much structure and they require much more effort and dedication on the part of the would-be learner. While it is certainly possible to learn Japanese on your own this way, I think it is nice (and quicker) to have somewhere structured to start like a book or program and Japanese From Zero is a fairly inexpensive option.
That being said I had a few issues with the book. One of the drawbacks of studying language from any printed book is the lack of audio. While most of the sounds in Japanese are pretty straight-forward, I had to go and look up some of the trickier pronunciations. Fortunately, YouTube is a pretty good supplementary resource for this. I discovered later that Japanese From Zero's accompanying website (YesJapan.com), has the same lessons with audio. There is a subscription cost for more advanced material, but it is my understanding that all the material covered in the first book is available for free. And there are some cute little practice games.
My next problem with the book was one of quality control. Despite the fact that I'm not the most skillful writer, poor editing is one of my pet-peeves and I felt this book could have used a thorough going over. There were a handful of typos, a couple of missing explanations, and not all of the words used in the lessons appeared in the glossary. While these flaws weren't serious enough to deter the learning process, I found them irritating all the same.
Lastly, if you are looking for a very technical approach, this book probably isn't really for you. If you are looking for an inexpensive, friendly introduction to Japanese, I think it's suitable. Now that I've finished it up I am still debating whether to purchase the next book (continuing on into katakana) or to learn katakana on my own and perhaps purchase a more advanced text book. Decisions, decisions. It will probably come down to a battle of ambition versus convenience.
As I ready myself to continue on in my quest, here are a couple of my personal suggestions for anyone tackling hiragana on their own:
Hand-writing the characters is a simple way to facilitate memorization. For me it helped really stick them in my brain better than only using flashcards or reading them. There are lots of free, printable worksheets out there and Youtube has plenty of videos demonstrating how to write them. Try searching for things like "learn hiragana" or "writing hiragana".
Practice makes perfect! There are lots of free ways to practice hiragana available on the internet so find one that suits you. I opted for the digital method and used the super basic RealKana to practice, but you can also go old school and make flashcards. I've also heard good things about Anki which is a sort of spaced repetition flashcard program that tailors practice sessions based on your feedback.
Set aside time every day (or as often as possible) to work on it. Even if it's  just something silly like practicing writing characters while in the shower. (I totally did this)
And although cuddly, kitties are perhaps best left out of the learning process.